How are you?
Take a deep breath and listen to what comes up…
If you're…
"fine,"
"hanging in there,"
"doing your best,"
"stressed but blessed,"
…we see you and we want you to know you're doing a GREAT JOB.
The world is a wild place and everyday there is so much that is outside of our control. And while we can't give you control of the world, we're here to help you feel more in control of your (and your family's) health + wellness.
True wellness means feeling good in your body, satisfied with the care you and your family are receiving, and grounded in the beautiful possibilities life has to offer.
Here's the thing:
True wellness is about being better than "fine."
That said, if "fine" is your reality right now, we're not here to shame you– we're here to help.
---
Get to Know Us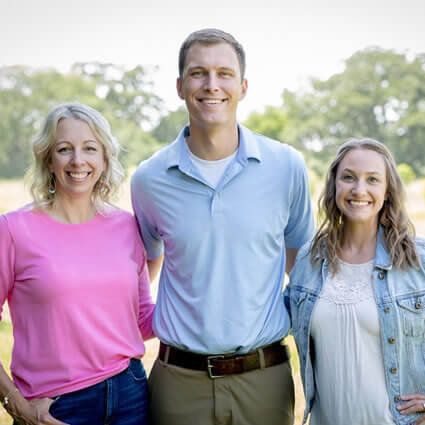 Hey, we're Dr. Amy Forester, Dr. Erica McKinney, and Dr. Joe Huss and we'd like to personally welcome you to Absolute Chiropractic + Wellness.
Absolute is the leading Family Wellness Chiropractic Practice in Kenosha and we're here to help you and your family thrive. We specialize in pregnancy and pediatric care and are here to support your entire family.
The truth is, we're (too) often faced with stressful situations and we go into overdrive– in fact, most people consider this their normal state. And while we get that sometimes you have to push yourself and keep going, we also know that there's a better way. We're here to help you and your family lower your internal stress levels, improve the health issues you're suffering from, and help you feel better in your body so you feel better in your life.
More About Absolute
Absolute Chiropractic + Wellness was founded by me, Dr. Amy Foerster in 2012 to offer family-oriented chiropractic care. As a busy mom and a doctor, I know how much our health affects how we (as parents) show up for our kids. The truth is, we all need support to be the best versions of ourselves.
I'll be honest; being a mom is stressful. And while that's just the truth of it, I also know that there are ways to help relieve the stress in your body so you can show up fully for your kids, your partner, and most importantly, yourself.
And, this isn't just about us. Stress starts in the womb and is carried in our bodies throughout our lives.
Now, this isn't a reason to panic, but it is a reason to lean in and get interested about what we can do for our kids (while they're in utero and out) to help them find peace within themselves so they can joyfully express themselves in the world.
While we care for people of all ages (and love it!), we believe that caring for infants and children creates healthier families, and a healthier community. We delight in empowering and educating even our youngest patients to become involved in their health and well-being to live a lifetime of wellness. In 2016, Dr. Erica joined the practice and we've been serving the families of Kenosha ever since giving them the tools to take control of their health, thrive in their bodies, and live a healthier life (all without the use of drugs and surgery.)
GET STARTED TODAY
Are you ready to experience better health, naturally? Contact our chiropractic care center today to book a same-day appointment.
CONTACT US
---
About Absolute Chiropractic + Wellness | (262) 925-2890